Happy Valentine's Day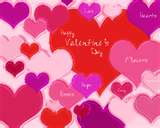 Just a quick note to wish you a happy Valentine's day my friends! This has got to be one of my favorite holidays, because it focuses on love!
Whether you have that special someone in your life now, or in the process of attracting them, this is a great day to let EVERYONE you love know how you feel about them.
And remember, the more you generate love in your heart, the more you'll see it manifest in the world around you.
A great ritual to begin today — list 100 things you love and are grateful for each day (you'll be surprised how quickly they add up!)
If you ARE in a relationship, try Abraham's technique of listing all your favorite things about that person, like the things that attracted you in the first place. You'll see more you like by doing this, guaranteed!
And while you're at it, why not do the same for everyone you interact with on a regular basis? See the best in them, and they'll show you their best.
Be the change you want to see in your world, and make every day a happy Valentine's day!

Love & Light

Alexandria
http://www.AlexandriaBarker.com