What you REALLY want for Christmas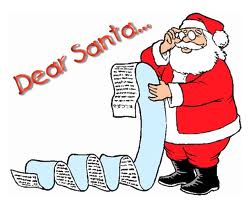 What's on your wish list for Christmas?
Typical things like robes and slippers, socks, diamonds?
Do you limit your wish list for Christmas to tangible items available at stores everywhere, coveted items written down to ensure your spouse gets you things you actually like, that actually fit? Things that, if not under the tree, you plan to buy during Boxing Day sales?
That's all well and good – after all, some significant others really need and appreciate this help. But this year, why not dream a little?
Expand your imagination – sit and think about what you'd REALLY like to have this holiday season! Imagine what a perfect holiday season would look like to you.
Pull out all the stops – what really matters to you? Is it more down time? More family time? Time in nature? Better health? More wealth? More energy? What would you love to have magically appear this Christmas?
Everything begins as thought. Thoughts lead to emotions, then come actions, and finally the essence of the thought manifests into reality. You still have 24 days to create exactly what you want this year for Christmas – and a lot can happen in that time! Give yourself the gift of freedom and permission to dream BIG, creating a mental image that excites you so, it makes you tingle all over.
Once you've done that, you're ready for Step 2: creating your own personal, private wish list for Christmas. Take all that wonderful dreaming and put pen to paper. Write it all down. Don't worry, this list is for your eyes only, so it doesn't have to be logical or practical — just satisfying! This should be a fun activity, so allow yourself some time to really open up to all the possibilities – even if they don't feel possible at this moment!
Now you're ready for Step 3! Take that beautiful, powerful wish list for Christmas, read it over, and think about what images best represent the items on your list. Then grab a few magazines (some you've already read, you'll be cutting them up) and start flipping through to find the images and headlines that speak to you. Cut or tear them out, you'll be gluing them onto a sheet of cardboard.
This dream is already feeling more like reality isn't it! That's because you've already begun drawing the essence of it to you. Arrange the words and images on the cardboard in a way that appeals to you – you're going to be spending a lot of time looking at it!
Once this Dream Board or Vision Board is done, you've created a tactile representation of your wish list for Christmas! Hang it someplace where you can see it often. Plan to spend a few minutes each day looking at it, letting yourself pretend you now have all the things on it. You may even want to close your eyes and imagine you're living with the things on this board. This powerful process is called Visualization.
One key ingredient in your recipe for success with this is BELIEF. Remember, as a child, you weren`t concerned with prices. You knew Santa could conquer all. Well, think of the Law of Attraction as Santa!
Let yourself BELIEVE as you did as a little child. See yourself, FEEL yourself enjoying the items on your wish list for Christmas. Really get into the feeling – those strong emotions will send out vibrations that will be matched by the Law of Attraction, which will bring matching vibrations back to you.
If all this feels like magic – well, isn`t that what the holiday season is all about!
Let me know how this works for you!
Love & Light
Alexandria
http://AlexandriaBarker.com