Using Law of Attraction to Attract Abundance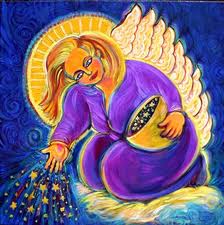 Interested in using Law of Attraction techniques to attract abundance?
Since we magnetically attract everything in our lives, it's easy to become a money magnet! You can manifest money as easily as you attract any other form of energy.
After all, everything is energy!
To attract abundance, it's important to realize abundance isn't only about money. If money is a sticking point for you, try shifting your focus to other areas of your live where you feel abundant.
Maybe you have an abundance of friends, or you live in a beautiful area where nature abounds. Making this shift in perspective will keep you in the vibration of allowing you to attract abundance of all forms.
Because you create your life as you go along, you can change what you don't like and begin living the happy, healthy, prosperous life you were meant to live, starting where you are now.
First, decide what you really want. This is the time to indulge your most delicious fantasies! Anything you want can be yours.
If you want more money, be specific! For example, don't just intend to attract 'more'. To the Universe, 'more' means even a dime more than you have now. So if you want to be a money magnet, specify an exact amount.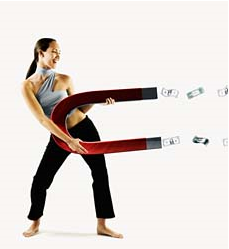 Now  comes the fun part, imagining you already have all the things you've asked for! Time to attract abundance!

Find a quiet place where you won't be disturbed for about 15 minutes, then imagine your life as you'd like it be, surrounded by what pleases you.
Sit comfortably, relaxing your body then focus on your goal.
Using as many senses as you can, visualize yourself using the item, or imagine the life situation unfolding just as you want it to. What luxuries will you enjoy when you're a money magnet?
To become a Money Magnet with the Law of Attraction, you have to believe you already have all you want!

To attract abundance, make your visualization as real as you can!
Using Law of Attraction, imagine yourself driving that new car, sliding your slim body into that new dress or suit, or enjoying that beautiful new house.
This visualization is your blueprint, so take the time to make sure you're creating what you truly want. Don't worry about how something could come about, just focus on what you want as if it had already occurred.
If you really want to attract abundance, visualize daily. Always ending with the statement, "This, or something even better, manifests for me in divine time for the highest good of all."
You need to know how you'll really feel when you've achieved your goal, so visit a fabulous show home, test drive that new car car, drop by a travel agency and pick up brochures of places you'll frequent when you're living your dream life.
Imagine yourself already there and before long, you will be, using Law of Attraction techniques!If you're interested in learning more, check out my home-study program

Love & Light, Alexandria
http://www.AlexandriaBarker.com