The Law of Attraction Works – Wisdom from a Genie!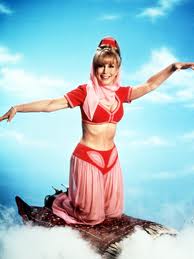 Sometimes the Law of Attraction works to give lessons  where you least expect.
I recently watched an I Dream of Jeannie in which Jeannie bestows her Genie powers on her master, without letting him in on it.
He begins seeing manifestations of his thoughts materializing before his eyes, but assumes Jeannie is doing the doing.
When she lets him in on the truth, his first thoughts are of all the good he can now do in the world.
Where to start? World peace? Feed the hungry?
Jeannie is quick to point out some cause and effect ramifications he hadn't thought of, that creating conditions to benefit some would cause hardships for others.
She advises him to start small in exercising his new power.

Excellent advice!
When you first discover the Law of Attraction works and you can be, do and have anything you want, and really begin to understand that you create your own reality through the Law of Attraction, you may want to change everything in your world. You may even want to take on changing the entire world.
This can set you up for disappointment in a big way, and may even convince you the law of attraction doesn't work, simply because unconsciously you may not believe you can really do the things you now want to do. After all, it's never worked before, right?
But fear not, there is a solution.
Start small!
In the 100 year old classic that inspired The Secret, The Science of Getting Rich, author Wallace Wattles tells how an impoverished man, unable to grasp the idea he can now live in a mansion, he goes through his modest home and writes a wish list of changes he'd like to make to it.
He explores this new image of his home through visualization, imagining slightly better furniture and conditions than he currently had.
To his amazement, his visions came to fruition. This gave him the confidence to reach a little further, and each success fueled his vision even further.
I think this is a brilliant approach! I've tried it, and found it works well for me.
When I first learned how the Law of Attraction works, I kept reading how I could live in a mansion.
Only problem was, I love the house I own now! After investing 15 years into my gardens and decorating, I felt disloyal visualizing myself elsewhere! It also made me feel dissatisfied with where I'm at now — a big Law of Attraction  no-no!
But as all homeowners know, there's always a wish list of things you'd like to change!
For me, focusing on the improvements felt much more possible. Taking things a bit slower also gives you time to really think about the big picture you want. By not rushing things, you can avoid manifesting things that may not accurately reflect your true desire!
If you haven't read Wattles classic, you can download a free copy at www.thesecret.tv
I hope you found this helpful! Give it a try and let me know how you make out, how the Law of Attraction works for you! I love publishing Law of Attraction success stories!
In Light, Alexandria
http://www.AlexandriaBarker.com  
reliefbeyondbelief@sympatico.ca