Pilates For Menopause Weight Gain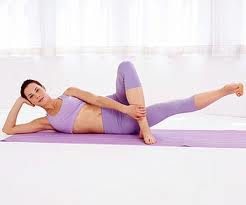 Pilates for menopause weight gain is one of the quickest solutions for achieving a strong fit, beautiful body.


Pilates was created by Joseph Pilates in the mid 1900's to strengthen and stretch the body and improve muscle tone and posture. Ideal for menopause weight gain, it strengthens your core and creates a more shapely, fit body.
The history of pilates is a very inspiring tale of success. Born in Germany in 1880, Pilates' sickly childhood inspired him to become healthy and strong. By the age of 14 he was a body-builder and sports enthusiast.
At 32 Pilates was a boxer, circus performer and self-defense instructor living in England. In World War I he  worked as a hospital orderly, and began using springs attached to hospital beds to help disabled patients strengthen and stretch their muscles, which led to the Pilates re-formers used today.

Pilates is based on these 6 principles:
1) Control
2) Concentration
3) Centering
4) Breath
5) Precision
6) Flow
Control: focusing on control prevents careless movements of no benefit.
Concentration: Focusing your mind on what your body is doing is key to transforming your body.
Centering: Developing a strong 'core' or 'powerhouse' by working the deep, small core muscles of the abdominals, gluteals, and low back.
Breath: Correct breathing keeps your movements smooth, and helps establish tempo for some of the exercises. Proper breathing is key to making this one of the best stress relief activities you can do!

Pilates teaches you breathe into the back of their rib cage (lateral breathing) keeping ribs the same distance from hips and sliding them out to the side and back. Exhale through pursed lips during exertion, tightening abdominal muscles and stabilizing the spine to prevent injury.
Precision: You are encouraged to perfect each movement as much as possible, using efficient accurate movements, before moving on to the next level.
When performing Pilates your first concern should be doing the movements correctly and noticing the sensations in your body, rather than how many repetitions you can do.
Flow: In Pilates, one movement flows seamlessly into the next, encouraging a meditative feel, leaving you feeling as if you're poetry in motion.
Discover the Benefits about Pilates

Are you tired of having to do endless repetitions of exercises to get results? Then Pilates is for you! It only takes a few concentrated repetitions of each exercise to achieve a whole new body.
Developing correct posture is one of the first benefits of Pilates you'll notice when you begin Pilates exercises.
Not excited by good posture? Well, did you know that correct posture can make it look like you've dropped 10 lbs?
Interested now? Great! Stand up, draw your shoulders back, lengthen your spine and draw your belly in. You've got it! You now appear elegant and confident, and are visually 10 lbs lighter without the endless crunches!

But that's just the beginning!
Soon you'll be achieving the "Pilates Promise', that in 10 sessions you'll feel the difference, in 20 sessions you'll see the difference, and in 30 sessions you'll have a whole new body.
Sounds like a big promise, I know. But the best thing about pilates is that it really delivers! Not just one of the best stress relief activities, but also great stress prevention.

In my 25 years of teaching fitness, I've never seen anything that comes close to matching the Pilates benefits I've experienced. Just this summer I dropped two jean sizes by following a simple Pilates routine 3 – 5x a week. Magic!
Pilates helps you develop stamina through controlled intensity and resistance. Just do your best, and gradually increase the level difficulty as you see fit.
Besides weight loss, other Pilates benefits are:
-increased muscle tone and flexibility
-increased mind/body awareness
-long, lean muscles
-joint stability
-decreased back and neck pain
Why not try it yourself, put the 'Pilates Promise' to the test!
Next blog, Free Pilates Exercises, Pilates moves that Really Deliver!
I hope you found this best stress relief activities article helpful! Give it a try, then Drop me a line and let me know what you think about it!
Love & Light, Alexandria
http://www.AlexandriaBarker.com