Menopause Symptoms Relief – Yoga
Yoga is one of the best activities you can do for menopause symptoms relief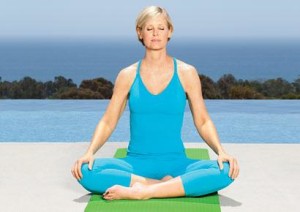 !
Whether you're looking for relief its hot flashes, insomnia, mood swings or hormonal weight gain, the many benefits make it SO worth taking time for yoga! Here are my top 5 reasons to begin yoga for menopause symptoms relief:

Get more 'feel good' chemicals

prevent mindless eating

relieve backaches

calm your nerves

relax your mind

1) Get more 'feel good' chemicals:
Yoga makes your brain produce more of a natural anti-anxiety chemical GABA (gamma-aminobutyric acid) that helps keep your spirits high and relieves depression that can be associated with menopause and perimenopause.
2) Prevent mindless eating:
Studies show binge eaters reduced the number of binge episodes from 5 to 2 times a week after a 10-week yoga program, because yoga teaches how to be present, and helps to develop healthy strategies to deal with the emotions that can cause overeating.
The You Docs (Dr. Mike Roizen and Dr. Mehmet Oz) give another reason why to do yoga, it helps you stop gaining weight. In a four year study, Overweight people 45 – 55 who did yoga gained 18.5 lbs less than an comparable group who didn't.

3) Relieve Backaches:
According to Spine Journal, people with chronic low back pain report having less pain and depression after practicing yoga twice weekly for six months.
Even if you don't suffer from backaches, yoga keeps your spine flexible and healthy. So not only is it among the best menopause symptoms relief activities, it makes it easier to enjoy all your favorite activities!
4) Relieve Menopause Mood Swings:
Raging hormones can make you feel a bit bi-polar; laughing and crying at the least opportune moments! Yoga to the rescue! Even the simple act of focusing on your breathing can ease the tension, putting you back in control of your emotions.
5) Relieve Menopausal Insomnia

A gentle yoga routine has the power to sooth jagged nerves and pave the way toward sound sleep. Keep the room cool, perhaps with a fan near the bed to help with night sweats. Yoga also reverses metabolic syndrome, reducing risk factors for diabetes and reducing high blood pressure, insulin, and LDL cholesterol.
I hope this article has shown you why yoga is one of the best menopause symptoms relief activities around, and inspired you to begin, or continue yoga!  For more tips on living stress free, check out my ebook and video series Relief Beyond Belief

Namaste,
Alexandria
http://www.AlexandriaBarker.com