Learn Reiki Healing for Body, Mind and Spirit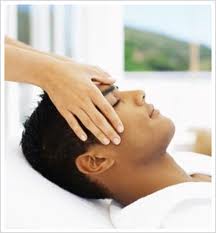 I believe everyone should learn reiki, because when it comes to nurturing your Body, Mind or Spirit, Reiki healing is the winner, hands down!
All  reiki healing requires of you is that you lie back and relax, while a reiki therapist lays their healing hands on you and makes pain and stress disappear.
Sound too easy? The beauty of reiki  is that it really is that simple, and that profound! Reiki healing has had such a positive influence in my life, I wanted to share a bit about it with you!

The name says it all. Reiki (pronounced 'ray – key') comes from the Japanese words rei, meaning universal, and ki, the energy flowing through all living things.

Accessing this 'ray' is 'key' to healing.
Life force flows through your body, through your chakras and meridians and around you through our aura, nourishing your organs and cells.
It responds to your thoughts and feelings, and is disrupted whenever you have conscious or subconscious negative thoughts or feelings about yourself.
Stress and other negative thoughts and feelings attach to your energy field, disrupting the natural flow. This reduces your organ and cellular function. When you learn reiki, you can release this destructive energy.

What it is
 As you Learn Reiki you'll discover that life force energy has a source that can be contacted and tapped into, and that you can easily learn to use it. There are always positive results, though not always the ones you expect! For example, you may see a reiki practitioner for a sore foot, and find that a sinus condition also clears up!

What it Does
Reiki energy healing corrects imbalances, helping your mind and body return to their own perfection.
It finds its way to the areas of your body that need it most, bringing body, mind and soul into harmony by balancing organs and glands, releasing repressed emotions, and promoting natural self-healing.
Physically the energy promotes balance, letting your body heal itself. This makes ordinary ups and downs more manageable, stress easier to handle, and learning easier.
Reiki also encourages spiritual growth by increasing your ability to meditate or pray, so you can access your inner guidance.
It's widely regarded as a stress reducer and a preventative treatment that strengthens the immune system and relieves pain.
In addition to treating physical ailments, it helps with deep emotional and mental problems such as bipolar disorder and schizophrenia. It also helps calm children with Attention Deficit Disorder (ADD).
When you learn reiki you can treat many conditions, from arthritis to whiplash and virtually everything in between.
Reiki can balance your chakras and dissolve energy blockages, releasing potential abilities.

To book an healing reiki treatment with me, or to book an in person or distant training session, please click this link.
Love & Light, Alexandria
http://www.AlexandriaBarker.com