Happy Relationships can be Yours!
Happy relationships can be yours, even if you're currently feeling stuck in unhappy relationship. Don't worry, there's a solution — and I don't mean dumping your (mostly) loved one!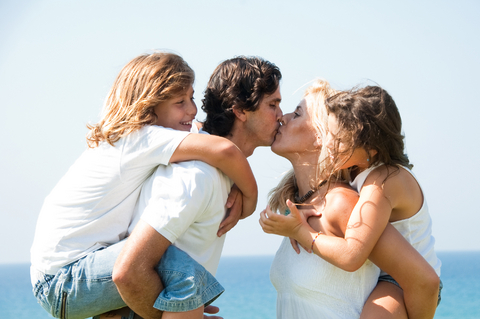 You can turn unhappy relationships around, and enjoy happy relationships, with the Law of Attraction. Your recipe for happy relationships, and happiness in general, is pretty simple. No matter what's going on in your life, you want to feel as good as you possibly can.
When you put good energy out, you attract good things, and when you put negative energy out, you attract negative things.
That means you can't stay focused on the things (or people!) that annoy you and expect them to change! You have to find a way to consistently see their good to enjoy happy relationships.
The way to turn a bad mood to good is to identify the thought you're having now, then re-frame it until it feels more positive, bringing you a sense of relief.
You only have to hold a positive thought for 16 seconds and the Law of Attraction will begin drawing more. I learned a great technique for healing unhappy relationships and turning them into happy relationships from Abraham-Hicks called Appreciation List.
It's beautifully simple, just sit and list things you appreciate about your loved one, like what drew you to them in the first place.
Thinking about each positive statement you write will hold you in a positive vibration and draw more of their positive aspects to you. Magic!
Not quite there yet? No problem, here's another technique to get to that point.
Let's say you're having teen relationship problems — just not getting along with your teenager.
They're rebellious, disobedient, disrespectful, leaving a mess everywhere, blaring their music; in general, working your last nerve.
This is making you frustrated, even angry. So start there, write how you genuinely feel, such as 'it makes me so mad when _______' or, ' I'm so frustrated that______'.
Just a few statements to identify your feelings.
Be honest, give your emotions a voice. Really feel your mood, even if it isn't pretty. But you don't want to stay there!
The whole point is to move beyond where you are now to a better feeling place, so the next step is to re-frame the thought in a way that feels a bit better.
You might try something like, "I know this behavior is typical for this age, I know they'll grow out of it."
Stay with this newly-improved feeling a moment or two while the Law of Attraction brings you up to speed.

Then take it up another level, with statements such as, "she isn't really a bad kid, she helps around the house when I ask, sometimes even offers without my asking," or, "even though right now we fight a lot, we have fun together sometimes, and we'll have more as she matures."
A personal favorite that got me through raising four typical teenagers is, "this too shall pass!"
You can keep rolling with this, feeling better and better as you go. It can help you feel better about anything in your life, including loss of a loved one, being down-sized at work, or serious illness.
It'll bring you to a better feeling place mentally and emotionally where you can deal with the issue more easily.
I've seen this technique work magic. It seems as soon as you clean things up in your own mind, getting really clear about what you want, unhappy relationships improve, often radically!
Now you know the techniques to cultivate happy relationships, pass them on to any unhappy people you know!
In Light, Alexandria
http://www.AlexandriaBarker.com