Best Stress Relief Activities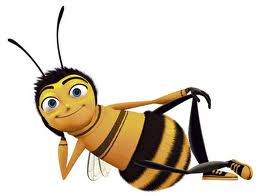 Here's one of the best stress relief activities – think about what you're thinking about!
The other day I received a painfully clear message from the Universe about how important it is to be aware of the thoughts I'm thinking — or should I say bee aware!
I am an avid gardener who has slowly transformed my 3 acres into one big cottage-garden playground. It's one of my best stress relief activities. Unfortunately I'm also severely allergic to bee-stings – so severe (until this year), if it progressed to the next stage I'd need an Epi-pen. Stressful! And in the past, I've tended to attract more than my share of bee stings.
The other day I was thinking of a friend of mine, reflecting on the positive impact she's had on my life, and how she brought to my attention that my fear of getting stung was attracting bee stings, through the Law of Attraction.
I knew instinctively she was right. Luckily, about that time I learned applying mud on the sting reduced the effects greatly – from several days of pain and swelling requiring medication, to not much more than a mosquito bite. The combination of realizing how I'd been attracting bee-stings, and having a new effective remedy always at hand, seemed to end this attraction.
So I was briefly reflecting on this, how by this time of year I normally would've had many stings, whereas this year there hadn't been any.
And about 10 minutes later, guess what happened to me? Yep. Stepped on a bee in clover – right on my big toe!
Now, while I was thinking about them, I didn't spend a lot of time focusing on bees, or thinking 'I hope I don't get stung'. It was more about the connection this friend had to the situation – but as I was shown, the bee thought still triggered powerful feelings for me, powerful enough to quickly bring it about.
So – the moral to this little story is, don't think about what you don't want! If you don't want stress, release stressful thoughts as soon as they come up. Watch your thoughts, pay attention to what's going on in your head – little thoughts can have a big impact. Or, bee prepared for whatever life brings you – which may things you don't really want!
PS if you do get stung, try applying mud to it. Works like a charm! Hope you enjoyed this article on best stress release activities!

Get rid of those ANTS for good with Part 2
Love & Light, Alexandria
http://www.AlexandriaBarker.com