Best Stress Relief Activities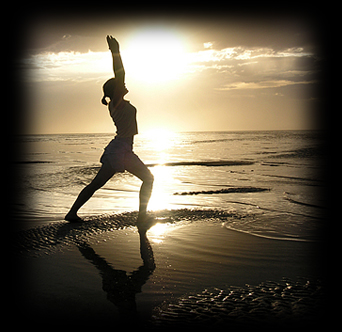 A far as I'm concerned, yoga is the best of the best stress relief activities.
Yoga has made an amazing difference in my life. I was sold after completing my first 10-week session.
The mind/body connection made all the difference for me, and led me to become a yoga instructor. Over the years I've realized many benefits from yoga, particularly in reducing stress. Try it and see if you don't agree it's one of the best stress relief activities!
I'll cover the basics here, and introduce you to some asanas (poses) to help you relieve pain and anxiety, increase your fitness, and ultimately find inner peace. You'll

Yoga dates back 5,000 years, but is as vital today as ever! Yoga teaches you to connect with both your body and mind, because controlling your body leads to a more controlled mind. It's considered to be a path of enlightenment, with the ultimate goal of achieving a sense of oneness with the universe.
Yoga puts you more in control of your life as it tones your body and strengthens your mind through a combination of postures, breath control and relaxation. It transcends all religions, cultures and philosophies, and is a complementary therapy for treating anxiety, arthritis, cancer, diabetes, and many other conditions.
People often turn to yoga to increase their fitness, but has the potential to do much more than just tone the body. Yes it builds strength and stamina, increases flexibility, and improves balance, coordination, and overall energy and vitality. But the external physical rewards are just the beginning!
Yoga also helps cleanse the inner body by releasing negative energy and stimulating the lymphatic system, which filters toxins and transports nutrients to the blood.
Some of the many benefits of yoga are:
– strengthens the nervous system
– reduces stress by releasing tension
– sharpens mental faculties and increases concentration
– helps prevent physical and mental illness
– provides anxiety relief
– brings lower back pain relief
– provides neck pain relief
 Beyond these many benefits, practicing yoga encourages meditation, putting you more in touch with yourself, and offers guidelines for living and spirituality. It produces measurable physiological changes in the body, such as a decrease in respiratory rates and blood pressure, and altered brain wave activity that reflects relaxation.
It has both immediate and long-term reduction of stress and anxiety, and is often recommended to relieve the pain and anxiety of chronic illness
Yoga asanas are best learned at the hands of a trained instructor who can spot and correct body alignment mistakes, but there are many books and DVD's available to get you started in your practice. I personally love the Namaste series.
When the goal is reducing stress, daily yoga practice is most beneficial, with the entire body worked during each session. You can modify to adjust the level of difficulty. Just work to your own ability and connect with what you feel in the various poses. The idea is not just to work the muscles, but to tone organs and improve internal functions, which yoga considers to be even more important.
In yoga we practice Pranayama (breath control) to manipulate the life force in air for maximum physical and mental benefits.consciously using each inhale to nourish every cell in the body with oxygen, and each exhale to expel waste products such as stale air, to leave you feeling energized. This also contributes to making it one of the best stress relief activities around!

As well as being one of the best stress relief activities, and aside from all the physical benefits of yoga, I love it's spiritual aspects —  it promotes non-violence, truthfulness, non-stealing, moderation in all things, non-possessiveness, internal and external cleanliness, contentment, observing discipline and simplicity, study of life and its meaning, and attentiveness to the divine.
Wonderful payback for the time invested!
Namaste, which means 'the spirit in me salutes the spirit in you'
Alexandria
http://www.AlexandriaBarker.com