Best Stress Relief Activities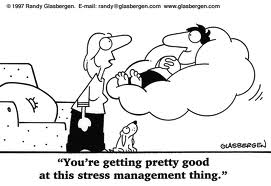 What stress relief activities can you use when your world is falling apart and all you can think is 'my life sucks'?
First and foremost, stop thinking that! Every time you indulge that thought you're reinforcing it, strengthening it, making it more real.
Not only that, each time you focus on why you think 'my life sucks', you're attracting more circumstances in your life that suck.

Through the Law of Attraction, the thought' life sucks' goes out into the Universe and matches up with other things, people and circumstances of a similar vibration.
The bad news is, no magic genie is going to appear to make everything better.
The good news is, you don't need one. You can make your life better all by yourself, using these stress coping strategies!

The quickest easiest way to shift your vibration from negative to positive is to feel gratitude and appreciation. Abraham-Hicks (www.abraham-hicks.com) has a wonderful little process called Appreciation List. So simple, a child can do it. So simple, you can do it even if you're feeling depressed or angry, to start to bring harmony back into your life.
All you have to do is pick something – anything – that you usually feel pretty good about. Like your child, your cat, your garden, the beach – it matters not what you choose, the point is to pick the thing most emotionally assessable to you right now.
Now grab a notebook and write Appreciation List at the top of the page. Focus on the person or item you're appreciating, and ask yourself what you love and appreciate about it. Then start listing these things one after another.
The whole point of this stress coping strategies exercise is to shift your mood, so try to really feel that love and appreciation as you write the items. The beauty of this simple exercise is that even on the darkest days, there will be at least one thing you can call to mind to appreciate.
One thing is all you need to start! Hold onto that one bright spot for a minute or so, and it will match up with other positive things for you to think about. Keep writing them down, really feeling the positive feelings that come with them.
List as many things as you can, then sit and review the list, allowing yourself the relief these better feeling thoughts bring.
You might be wondering, how will this fix the fact that your life sucks. Well, as you feel these improved feelings, not only will you feel your mood improve (this is HUGE), your thoughts will be busy matching up with other things of a like vibration, bringing you things, people and events to feel good about.
Remember how consistently thinking a negative thought reinforces it? Well I have more good news for you – every time you halt that thought you're weakening that connection. If you practice envisioning a stop sign whenever you think 'life sucks' or any habitual negative thought, and replacing it with a more positive thought, over time that negative thought will give up, leaving you to enjoy your life in peace.
It's worth the small amount of effort it takes to take control of your thought processes so they don't take control of you!

Please let me know how these stress relief activities work for you!
Love & Light
Alexandria
http://www.AlexandriaBarker.com