Beginners Meditation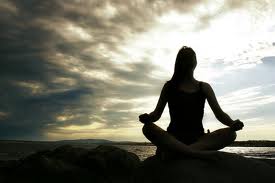 This beginners meditation article will tell you all you need to know to begin your healing meditation practice!
I was personally taught by a Buddhist monk, and I can tell you establishing a meditation practice will improve your life in ways you can't even imagine!

Like most habits, meditation quickly become a natural part of your day if you stick with a scheduled time, preferably in a place you enjoy where you won't be disturbed.
To help find inner peace, set up a
shrine using objects that inspire you, such as pictures, candles or incense.

The best time to meditate is when you first wake in the morning, when your body is rested and relaxed. All you really need is a quiet place where you can relax undisturbed, sitting comfortably or lying down, with some point of focus for your mind; your breath, a candle, religious symbol, or a mantra (phrase) repeated rhythmically.

A basic breathing meditation is a good place to begin. Lie down or sit in a chair with your feet on the floor, holding your hands loosely on your lap. Your shoulders should be level and your back straight but relaxed. This lets your energy  flow freely, and you'll be able to meditate longer.

Relax your mouth and jaw, with teeth slightly apart and tongue resting behind the upper teeth, preventing excessive salivation and dry mouth.
Tilt your head slightly forward to see the floor in front of you. Then close your eyes, or leave them slightly open to let light in and prevent sleep.
Stay as still as possible, letting any random thoughts pass by like
clouds drifting through a summer sky.
Take a few deep breaths, letting your body settle as you release busy thoughts and bring your attention inward. Simply be aware of yourself in the
room.
Spend about two minutes becoming aware of sensations in your body. Scan your body from head to toe, releasing any tension. Bring your attention to your forehead and temples and let your face and head completely relax.

Relax your neck, shoulders, arms and hands. Release tension in your chest, belly and back. Relax hips, legs and feet.

Using the power of your mind, totally relax your entire body until you feel comfortable and centered.
Now, focus on the natural rise and fall of your breath. Notice that the air is cooler as you inhale, warmer as you exhale.

You may find it helpful to count in cycles of 10 complete breaths, starting at one again whenever your mind wanders. When you become distracted, (you will, that's ok) release the images or feelings and focus on your breath again.
Continue for 5 – 20 minutes (start with 5 min. a day, and gradually increase your time).

At the end of your beginners meditation, notice how relaxed and peaceful you feel, then try to maintain it throughout your day. Try not to bring expectations to your meditation, it'll change from day to day.

In the beginning your mind will be hard to retrain, but perseverance will pay off before long. These relaxation techniques will help you find inner peace, so regardless of your initial results, feel good! Making the effort to meditate is a meditation in itself, as well as an accomplishment!
Hope you enjoyed this beginners meditation! Next post, a guided meditation you can easily follow to get your meditation practice going!

Namaste, Alexandria
http://www.AlexandriaBarker.com